Ropa Vieja — Diet Assassinista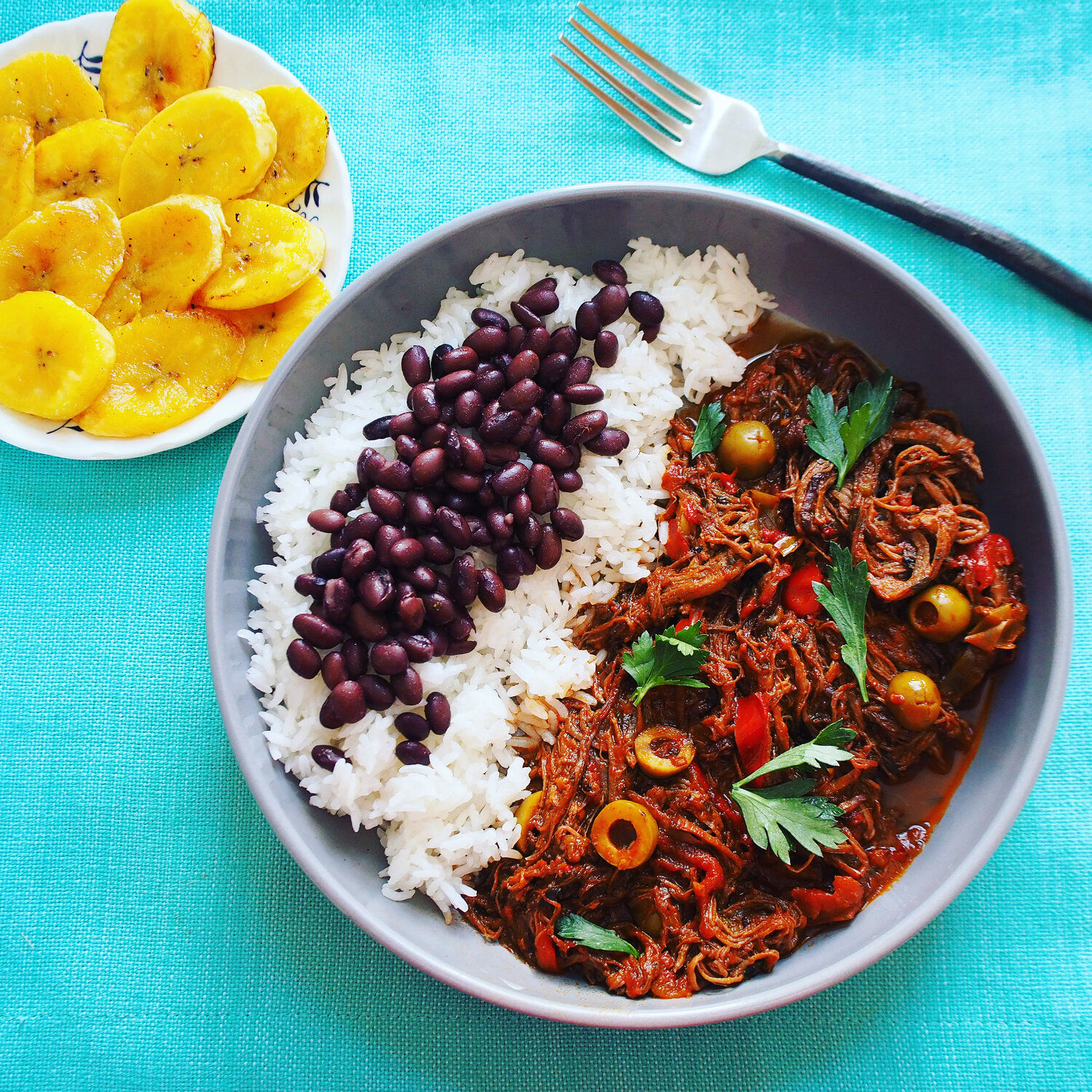 Ropa Vieja with Australian Grassfed Flank Steak
Time: 45 Minutes
Serves: 6-8
Ingredients
1 ½ lbs Australian grassfed flank steak
1 ½ tsp kosher salt
½ tsp freshly ground black pepper
2 tbsp canola oil, divided
1 large yellow onion, thinly sliced
6 cloves garlic, finely chopped
1 green bell pepper, thinly sliced
1 red bell pepper, thinly sliced
2 tsp dried oregano
2 tsp dried thyme
2 tsp ground cumin
2 tsp smoked paprika
1 cup dry red wine
1 (15 oz) can whole tomatoes
3 tbsp tomato paste
1 cup beef broth
1 bay leaf
1 tbsp white vinegar
½ cup pimiento-stuffed Spanish olives, halved
To Serve
Steamed rice
Fried plantains
Canned black beans
Fresh parsley, roughly chopped
Directions
Season Australian grassfed flank steak with kosher salt and freshly ground pepper. Heat 1 tbsp canola oil in a 6-quart pressure cooker over medium-high heat. Add steak and brown on each side, about 2-3 minutes. Transfer to a plate.
Add an additional 1 tbsp oil in the pressure cooker over medium high heat and stir in onions, garlic, and bell peppers. Sauté until the onions have softened, about 4 minutes. Stir in oregano, thyme, cumin, and paprika and sauté until fragrant, about 30 seconds. Add wine and simmer until most of the liquid has evaporated, about 2 minutes.
Add tomatoes, tomato paste, beef broth, and bay leaf to the pressure cooker. Simmer for 2 minutes, breaking up tomatoes with a spoon. Return steak and accumulated juices to the cooker. Cover and secure pressure cooker with lid and increase heat to high. Once the pressure cooker whistles over high pressure, reduce the pressure to low and cook for 25 minutes. Remove from heat and allow to cool before removing lid.
Reheat the stew uncovered over medium heat. Season with salt and pepper to taste. Stir in vinegar and olives and simmer for 5 minutes to allow flavors to combine.
Serve stew over rice with fried plantains and black beans on the side. Garnish with parsley. Enjoy!