Daemen University to add dental college to its health care programs | Business Local
[ad_1]

Daemen University in Amherst plans to open its own dental school.
Daemen's plan would add to the school's health sciences offerings – pending state approval and accreditation – and bring a second dental school to the Buffalo Niagara region, Daemen officials said Monday.
Amherst dentist Dr. Todd Shatkin of Shatkin Dental Health is partnering with the university to construct the Shatkin College of Dentistry in part of the Phillips Brothers Supply building on Kensington Avenue, close to Shatkin's Amherst dental facilities and the town's growing "Medical Spine" along I-290.
The new college would help address a need for dental professionals in Western New York, said Daemen President Gary Olson. The University at Buffalo's School of Dental Medicine is currently the only dental school in the area.
"There's a real need in Western New York and only one other nearby school of dentistry, and we will complement that," Olson said.
New York State's Academic Dental Centers – comprising the dental schools at Columbia University, New York University, Stony Brook University, Touro University, UB and the University of Rochester – have estimated the state will have 1,024 fewer full-time dentists than are needed by 2025.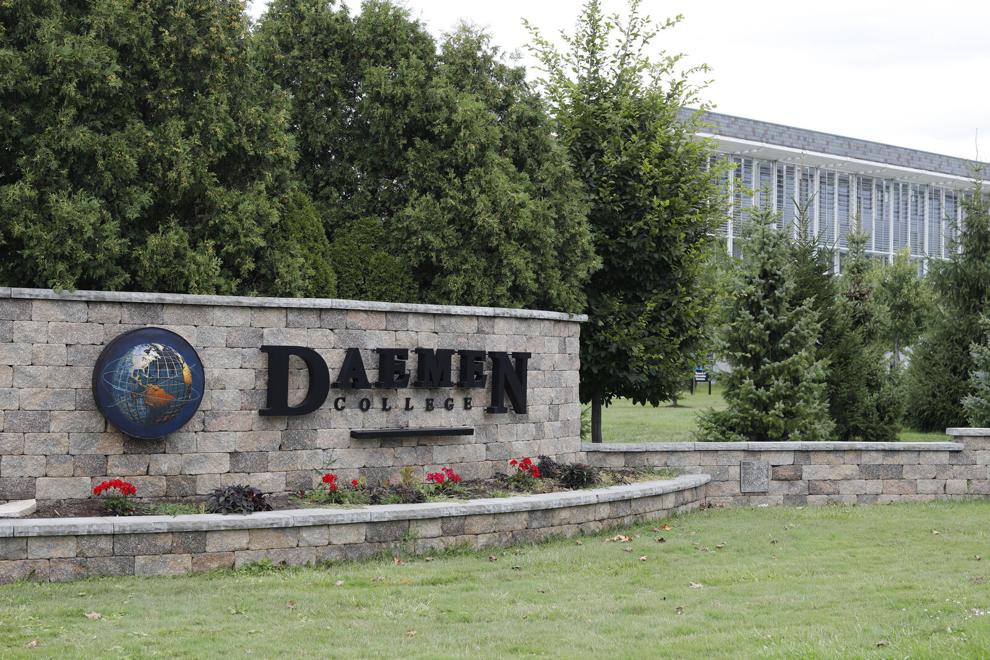 Achieving university status will support Daemen's recruitment of international students, as universities are perceived as more prestigious than colleges in many countries, school officials said.
"Dental schools, in addition to training the next generations of dentists, also function as safety nets for individuals who can-not afford dental care elsewhere," NYSADC says on its website.
Daemen's proposed Shatkin College of Dentistry is a partnership between higher education and private business that will help the Buffalo Niagara economy grow and build its education and medical sectors, said Amherst Town Supervisor Brian Kulpa.
"We see this as an immediate tie into Gov. Kathy Hochul's goal of producing a more and diversified healthcare workforce," Kulpa said.
Shatkin is investing $6 million to $7 million in the new college and Daemen will cover operating costs and about $500,000 to upgrade its anatomy labs, said Daemen Provost Michael Brogan.
Daemen began working with Shatkin on the plan more than two years ago and has submitted it for accreditation by the Chicago-based Commission on Dental Accreditation and the New York State Education Department.
The Commission on Dental Accreditation has accredited 15 new dental schools in the United States over the last 20 years.
Olson and Brogan said they are confident Daemen will receive the needed approvals and hope to open the new college in the fall of 2023. The program would accept 40 students per year, or 120 by the third year of a three-year program.
If approved, the college will differ from most dental schools by offering a year-round, three-year degree program instead of the four years it usually takes to earn a Doctor of Dental Medicine degree.
Graduating high school students could also take advantage of a "3+3" plan and get their bachelor's degree in biology from Daemen in three years and their DDS in three more, to become dentists in six years instead of eight.
The year-round program will also mean more continuous care for area residents who can get lower-cost dental care through the program, Shatkin said.
"The patients won't have to take the summer off, so there will be no break in care for patients, and we will be keeping the students engaged year-round as well," he said.
Shatkin has entered a lease-to-own agreement with Phillips Brothers that will allow him to buy the building at some point in the future, he said. For now, the building supply business is doing more custom ordering and less warehousing, so there's room to construct the new college space in about 15,000 square feet of the 39,000-square-foot building.
"We're going to take a little under half the building, put a second floor on it and make a wonderful space for training future dentists," Shatkin said.
Training future dentists is not new for Shatkin; he and his team already provide advanced training at his facilities to students in New York University's Langone Department of Medicine.
In the new Daemen program, first-year students will take core courses and biology on campus and get pre-clinical training at Shatkin's existing dental building about a half-mile away at 2500 Kensington Ave., he said. The next two years, students would get their clinical training at the new facility planned for 2525 Kensington.
Kulpa said Daemen announced the plan because it is poised to go to the town planning board this month.
He called Shatkin's renovation of the building "an adaptive reuse of an old industrial space" that will add to the I-290 medical spine.
Olson said it will also add to Daemen's offerings as a health sciences school that already has programs in nursing, pre-medicine, physical therapy and physician assistant studies, among others.
[ad_2]

Source link