Mango Pineapple Smoothie | Dietitian Debbie Dishes
This frosty mango pineapple smoothie will transport you to the beach with its tropical flavors. With just 5 basic ingredients, this healthy breakfast option is super simple to whip up.
Living in the midwest, the winter can feel awfully long and the cold leaves me longing for the beach. Since I can't just hop on a plane for sunny skies – this mango pineapple smoothie brings the tropical vibes to my tastebuds! I love using mango in smoothies, so this recipe is a spin off of my mango cilantro green smoothie.
Why You'll Love this Recipe
This smoothie tastes like a tropical vacation in a glass! The combination of both frozen pineapple and frozen mango makes it extra frosty too.
Mango and pineapple are packed with vitamin C which keeps your skin healthy and supports your immune system.
Just 5 ingredients are needed for this delicious smoothie. Plus, if you use a plant-based milk like soy milk, this smoothie is vegan, dairy free, egg free, and gluten free.
Ingredients You'll Need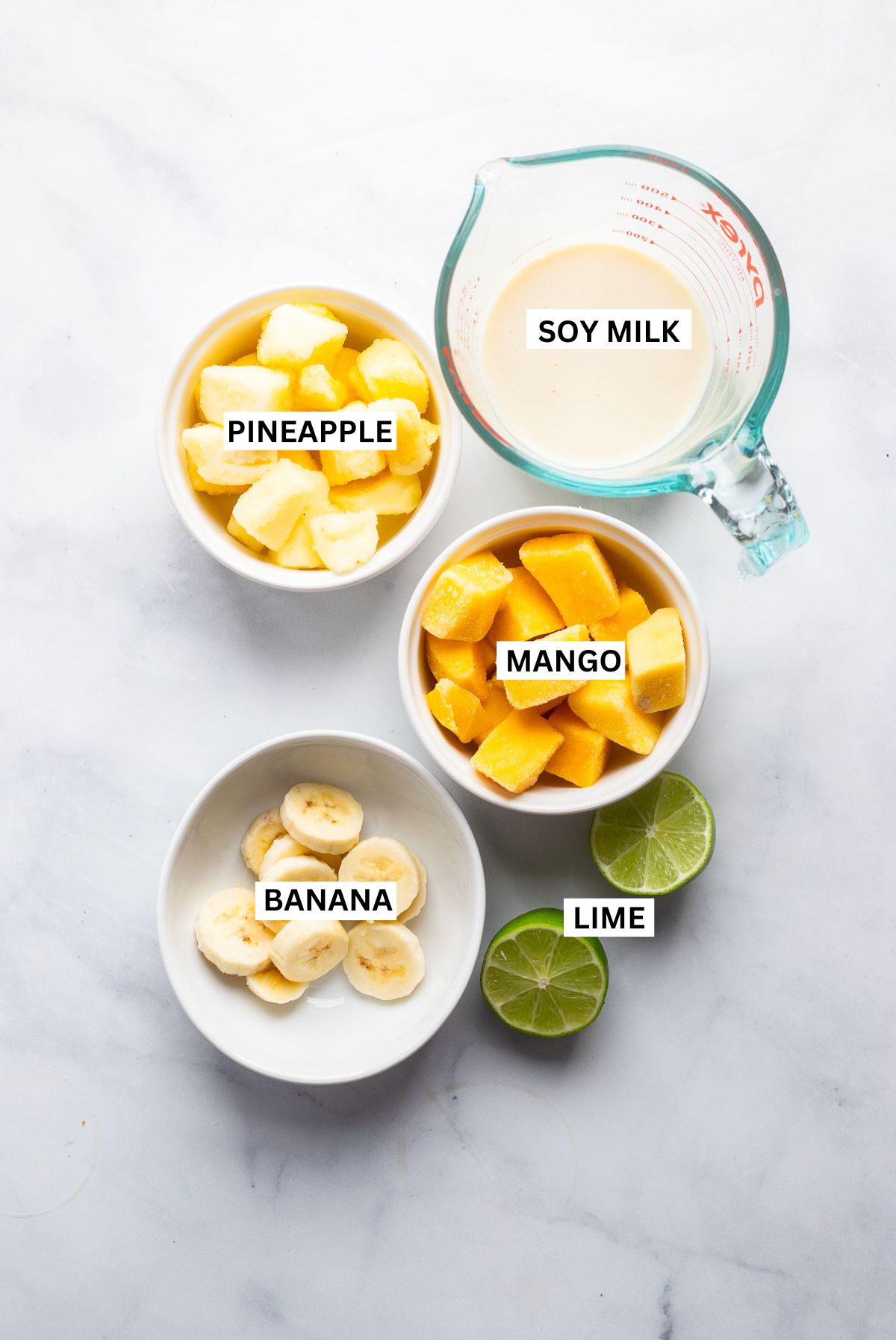 Pineapple: for an extra thick and frosty smoothie, I prefer to use frozen pineapple. However, you can use fresh pineapple if you have it on hand.
Mango: to make a thick smoothie, I like using frozen mango. You can use fresh mango if you would like, you may want to add some ice when blending to thicken the smoothie.
Milk: use any milk that you prefer. My favorite is unsweetened, plain soy milk since it is much higher in protein than other plant-based milks like almond milk.
Lime: Brings out the flavor of the pineapple and mango and the touch of sour balances out the sweetness of the mango/pineapple/banana.
See recipe card below for a full list of ingredients and measurements.
Variations
Make it a green smoothie: add fresh baby spinach or kale leaves (about 1 1/2 cups) to the blender when pureeing for a delicious green smoothie.
Add protein: add a scoop of vanilla protein powder before blending for more protein. My favorite brand of vegan protein powder is Ritual. If you consume dairy, you could add 1/3 cup Greek yogurt for extra protein.
Add more tropical vibes: Use canned coconut milk instead of soy or almond milk. It will add just a hint of coconut flavor to the smoothie which is delicious with the mango and pineapple.
Create a smoothie bowl: The texture of this smoothie is thick so it can make a great base for a smoothie bowl if you'd like. Top with some homemade vegan granola and fresh berries for a delicious balanced breakfast.
Step by Step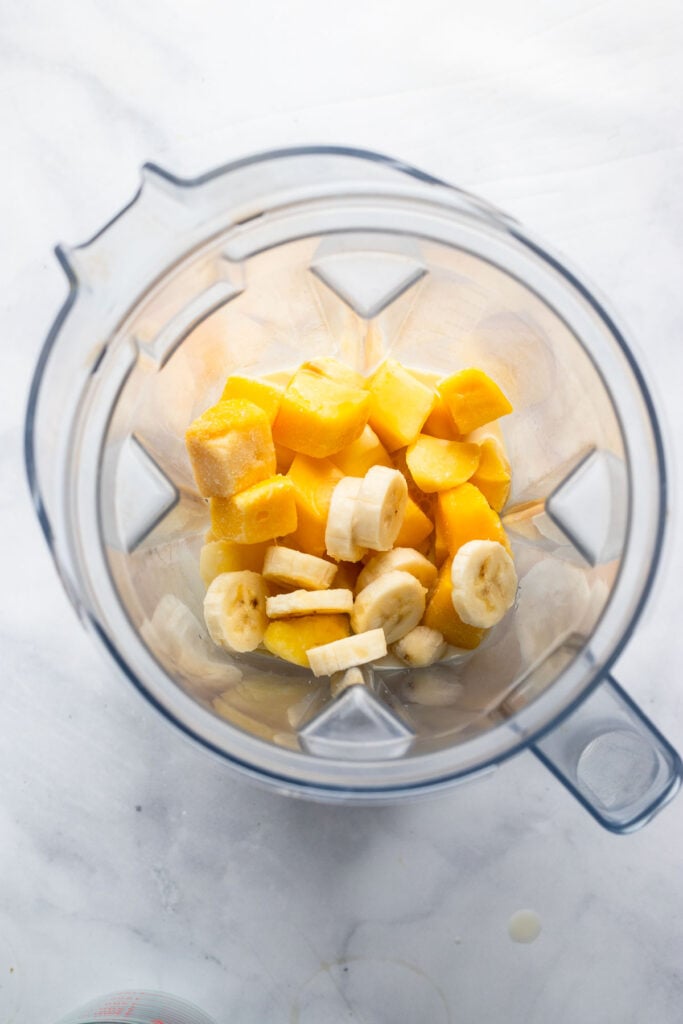 Step One: Add all of your ingredients to a blender and puree until smooth. Add more milk during blended if needed to get the ingredients moving.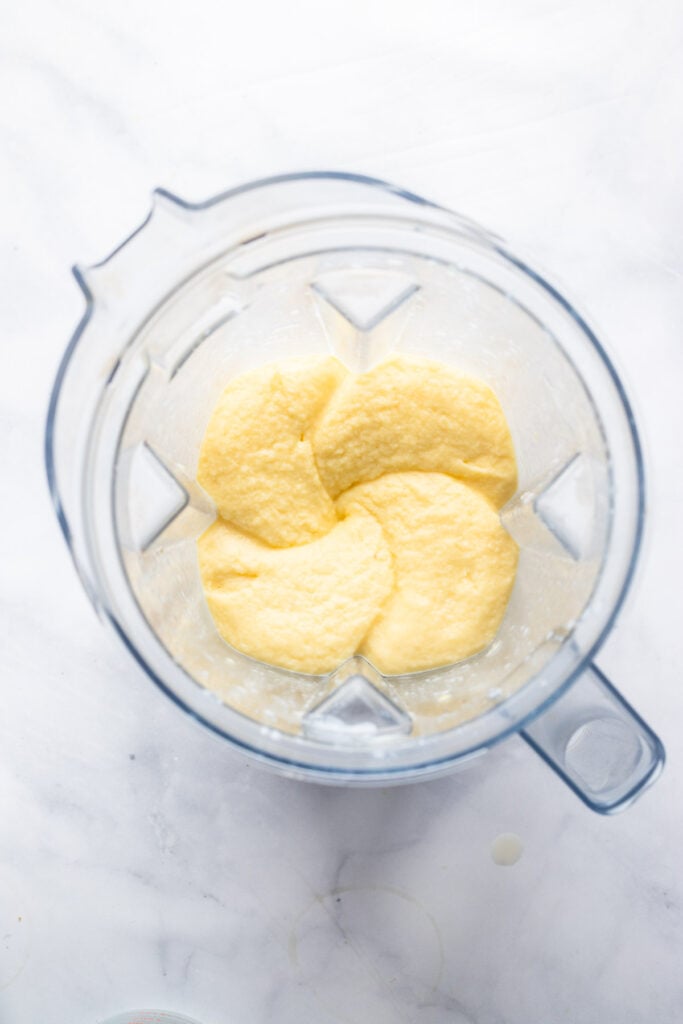 Step Two: Pour blended smoothie into serving cups and drink right after blending.
Expert Tips
Start slow: for best results, start your blender on a low speed and gradually increase the blending speed as the ingredients start to break down.
Adjust thickness: Use only frozen fruit if you prefer a thicker smoothie consistency. Add more milk if your smoothie is too thick.
Add sweetness: Add an extra 1/2-1 tablespoon of maple syrup, agave or honey to add more sweetness. You can also toss a medjool date in before blending for additional sweetness.
Add protein: Make this smoothie more filling by adding a scoop of protein powder before blending. You could also add protein by adding 2 tablespoons of hemp hearts or chia seeds.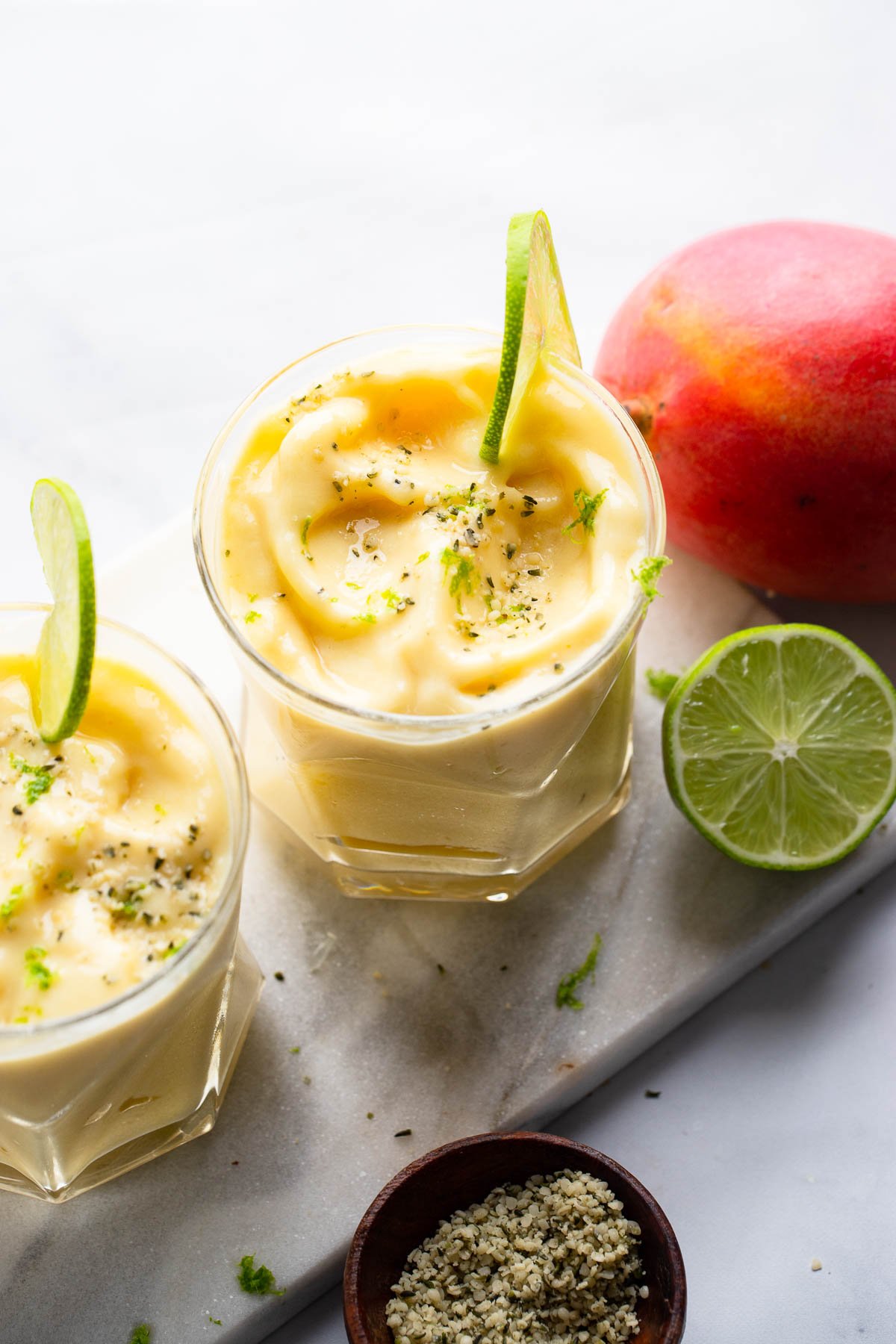 Recipe FAQs
I don't like banana – what can I use instead for this smoothie?
You can use an extra 1/2 cup of yogurt, 1/2 avocado, or 1 cup frozen cauliflower rice instead. Since these options aren't as sweet as a banana, you may want to add a little maple syrup or a date to your smoothie before blending for extra sweetness.
What fruit blends well with pineapple?
Pineapple pairs well with a variety of different fruits! Pair it with mango and banana for some tropical vibes like in this smoothie. For variation, instead of mango you could use strawberries, raspberries, passion fruit, or peach.
Is it OK to have a smoothie every day?
Yes! Smoothies can be a great breakfast option that includes at least a serving of fruit and/or vegetables. Add protein to your smoothies to make them more filling and balanced or pair them with a side like peanut butter toast or tofu scramble.
Health Benefits of this Smoothie
Pineapple is a great source of Vitamin C which helps promote smoother skin due to its role in the formation of collagen, a structural component of our skin, teeth, and hair. It is also a powerful antioxidant that can help protect against the free radical damage from sun exposure. 
Like pineapples, mangos are also a good source of the Vitamins A and C. Both of these vitamins protect your skin from sun damage by preventing free radical damage and decreasing inflammation.
Pineapple, mango, and banana are all good sources of potassium. A potassium-rich diet can help reduce blood pressure and may help prevent osteoporosis.
Did you love this recipe? Make sure to leave a ⭐️ rating and tag #dietitiandebbie on instagram!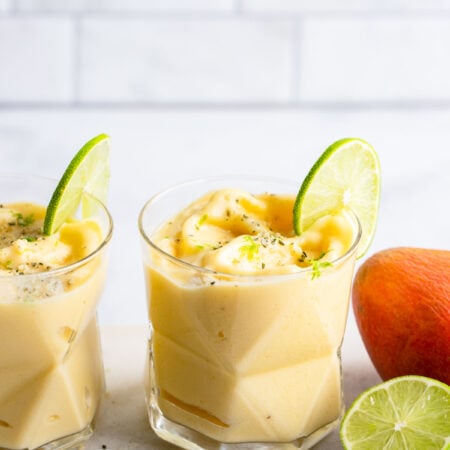 Mango Pineapple Smoothie
This frosty mango pineapple smoothie will transport you to the beach with its tropical flavors. With just 5 basic ingredients, this healthy breakfast option is super simple to whip up.
Prevent your screen from going dark
Notes
Makes 1 large (20 oz) smoothie or 2 smaller (10 oz) glasses. Nutrition information is for the large smoothie portion. 
Don't like bananas? Use 1/2 cup yogurt, 1/2 avocado, or 1/2cup frozen cauliflower rice. 
Make a green smoothie: Add 1 1/2 cups fresh baby spinach or baby kale leaves before blending for a delicious green smoothie.
Add protein: before blending, add 1 scoop vanilla protein powder or 2 tablespoons hemp hearts or chia seeds. 
Nutrition
Serving: 1smoothie | Calories: 340kcal | Carbohydrates: 68g | Protein: 10g | Fat: 6g | Saturated Fat: 1g | Polyunsaturated Fat: 3g | Monounsaturated Fat: 1g | Sodium: 122mg | Potassium: 1002mg | Fiber: 7g | Sugar: 52g | Vitamin A: 2846IU | Vitamin C: 161mg | Calcium: 373mg | Iron: 2mg
Reader Interactions