Lemon-Lime Bars – The Paleo Mom
I have been working on this recipe on and off for years, going through dozens of iterations to get the perfect shortbread texture using combinations of grain-free flours and starches for the bottom layer of these custard bars (the custard was actually much easier and I nailed it in the third iteration). And, as I get ready to launch my new website, Nutrivore.com in the coming weeks, I had all but given up ever being happy enough with this recipe to share it… until I tried it one last time using Beth Blends Grain-Free Flour Blend. Wow!
Over the last year or so and after Beth sent me some bags of her flour blends to try out, Beth Blends Grain-Free Flour Blend has become my go-to flour to use for everyday cooking. But, it was only recently that I had the chance to try it in this recipe. In my previous iteration of the shortbread base, I had used 6 (yes, SIX) different grain-free flours and starches to try and get the perfect texture for the shortbread bottom layer (not too crunchy, not too crumbly, but strong enough to support the custard layer, two versions were actually squeaky when you bit into it, which was super weird). And, I'm so glad I did, because I now feel confident sharing this recipe with you, just on time for the holidays!
Paleo Principles
200+ Healthy and Delicious Recipes
20 Meal Plans for a variety of goals
Step-By-Step Guides
I LOVE this book. The science is awesome. I've learned a ton without feeling overwhelmed. The paleo principles just takes my understanding to the next level!!!

Janet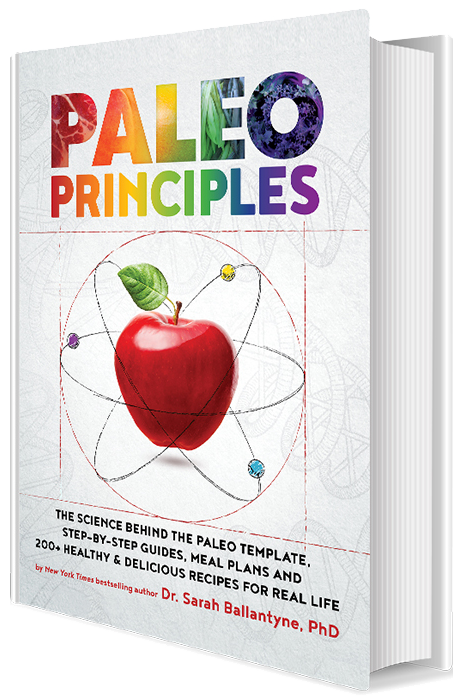 Variations: Because I've iterated this recipe so many times, I feel like I've tried it all! My favorite is the combination of lime and lemon in this custard, but I've tried using just lemon, just lime, Meyer's lemons (on their own or with lime) and orange (on its own or with lemon). They're all tasty, so feel free to experiment with other citrus fruits in this recipe. I've also used different sugars to sweeten. My preference is unrefined cane sugar because I feel like it doesn't compete with the citrus flavors, but it's also tasty with maple sugar if you want to use a more nutrient-dense sugar. You can make this in an 8″x8″ pan for a thicker bar (like in my photo), or a 9″x9″ pan for a thinner bar. It cooks a bit faster if you make it in a 9″x9″ pan. And, if you want to make the shortbread base with a different grain-free flour blend, all I can say is, nothing I tried worked as well as Beth Blends.
Lemon-Lime Bars
Prep time: 20 minutes
Cook time: 20 to 25 minutes
Yield: 16 2-inch squares
Ingredients:
1 1/2 cups Beth Blends Grain-Free Flour Blend
1/2 cup ghee (or substitute butter or palm shortening)
1/4 cup powdered sugar (you can blend maple or cane sugar in a blender for 30 seconds to make this, or use store-bought)
3/8 teaspoon salt, divided
1/3 cup lime juice (about 3 limes worth)
1/4 cup lemon juice (about 2 lemons worth)
2 teaspoons lemon zest (about 1 lemons worth)
1/2 cup sour cream (I use a coconut-based dairy-free sour cream, you could also substitute whole milk yogurt or coconut cream, but the higher the fat content of this ingredient, the creamier the custard)
5 eggs
1 cup unrefined cane sugar (like sucanat, or sugar in the raw)
Directions:
Preheat oven to 350F. You don't need to line your pan with parchment, but it does make it a little easier to remove on the other side, so up to you, I usually skip lining my pan.
In a bowl, kneed together Beth Blends Grain-Free Flour Blends, ghee, powdered sugar and 1/4 teaspoon salt. This is easiest with your hands as it makes a very stiff dough (similar to pie crust dough in consistency).
Press dough into the bottom of an 8″x8″ baking pan to form an even layer. Poke holes all over the top with the tines of a fork.
Bake for 20 minutes, until just starting to turn slightly golden. Meanwhile, prepare your custard.
Add remaining ingredients to a blender jar and pulse just to combine. Alternatively, you can whisk them together by hand.
Remove pan from the oven and pour the contents of your blender over the top. (You can do this while the shortbread layer is still hot, or if you're not quite ready when the shortbread is, it's totally okay if it cools down a little. You'll get slightly more distinct layers if the shortbread is still hot, but it works either way).
Return to the oven and bake an additional 20 to 25 minutes, until custard is set. (If you shake your pan slightly, the center shouldn't wobble.)
Cool completely before removing from pan. These are great chilled or at room temperature.
Sprinkle the top with additional powdered sugar, if desired. Cut into squares and serve.
Store any leftovers in an air-tight container on the counter for up to 3 days, or in the fridge for up to a week. I think these are even better on the second day!