10 Festive & Fun Light Christmas Cocktails
by Caitlin H,
Dec 5, 2022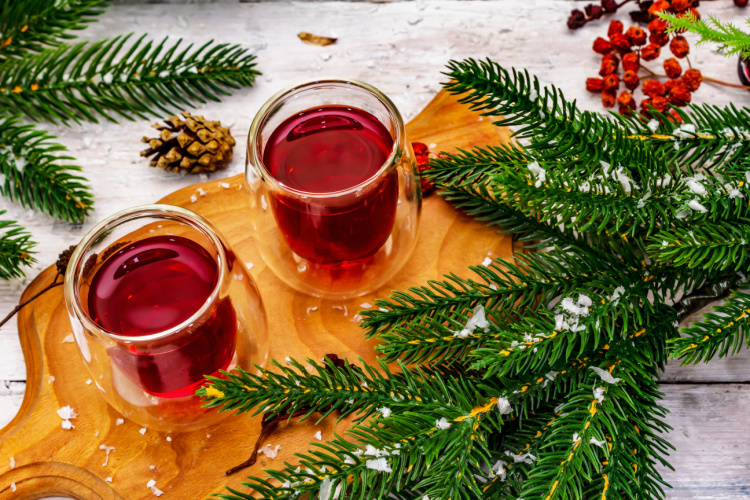 Holiday get-togethers are often synonymous with high-calorie adult beverages like spiked eggnog, mimosas, wine and beer. While it's okay to indulge occasionally, there are also a ton of fun, lower-calorie beverages you can whip up instead.
Keep these 10 Christmas-themed cocktail recipes on hand for any upcoming festivities and you can enjoy without going overboard. As always, be sure to drink responsibly!

 
---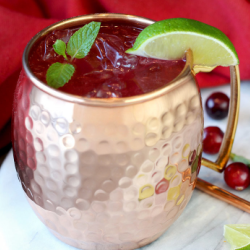 1) Cran-Good Moscow Mule

Moscow Mules are a fun holiday drink that often make their way onto the party menu. The traditional versions tend to have upwards of 200 calories, which makes this 127-calorie version with cranberry juice pretty darn appealing!
Get the recipe at Hungry Girl.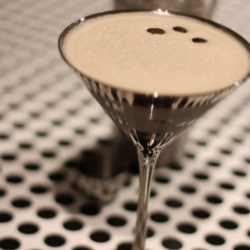 2) Skinny Espresso Martini

Combine a little alcoholic indulgence with the shot of caffeine you need to stay the course with this delicious, skinny espresso martini recipe. It's only 145 calories and will surely have you wanting more!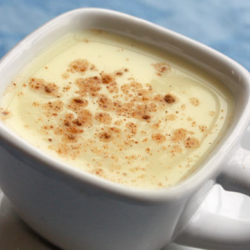 3) Spiked Skinny Eggnog

No holiday celebration is complete without eggnog! This creamy holiday staple is usually laden with calories, but this skinny spiked eggnog cuts them down to 107 per serving. Add a splash of bourbon or spiced rum for a tasty alcoholic version that will make its way back onto your Christmas Eve table year after year!
Get the recipe at Skinny Taste.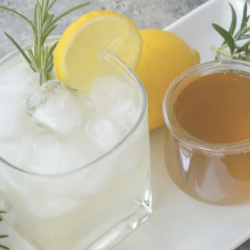 4) Rosemary Gin Fizz

This rosemary gin fizz combines earthy and tart flavors with a splash of booze and mint that makes for a light, refreshing cocktail you'll want to sip over and over again. It's only 135 calories and has only 1g of net carbs, making it an excellent choice for anyone going the keto route!
Get the recipe at The Best Keto Recipes.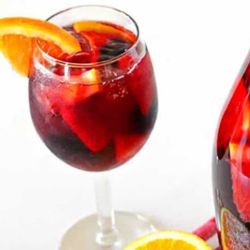 5) Christmas Sangria

Sangria's red color makes it a perfect choice for holiday parties. Unfortunately, most sangria recipes have 300+ calories per serving. That's why you'll definitely want to try this 70-calorie version that uses sugar-free Sprite to cut down on added sugar without skimping on taste.
Get the recipe at Living Locurto.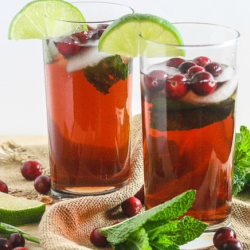 6) Cranberry Mojito

A cranberry- and mint-leaf-garnished mojito makes for a pretty compelling Christmas drink. A traditional mojito has about 200-250 calories. But using unsweetened cranberry juice, seltzer and Stevia cuts way down on calories — there are just 156 in each serving of this version!
Get the recipe at Lauren Kelly Nutrition.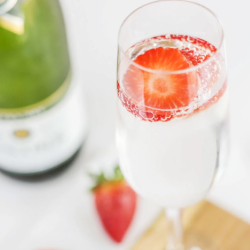 7) Low-Sugar Mimosa

When the in-laws are in town, it may not be a bad idea to have a mimosa pitcher out on the table when everyone wakes up for brunch. A typical mimosa typically has about 200 calories per serving. But this version substitutes the sugar-laden orange juice with La Croix to cut way down on the calories for a guilt-free morning treat!
Get the recipe at Designing Vibes.
8) Pomsettia

Pomegranate juice, vodka and club soda are all it takes to make this festive cocktail that will soon become the star of the show. It's only 139 calories per serving and looks the part as much as it tastes it!
Get the recipe at Shaw Simple Swaps.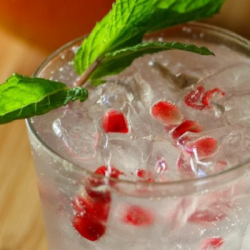 9) Winter Sea Breeze

Tangy and crisp meets bright and bubbly for this fun cocktail that combines vodka, grapefruit juice, tonic and soda water. Adding a bunch of pomegranate seeds and a sprig of mint makes it look as Christmas-y as it comes, just the thing for enjoying with the family the night before the big day!
Get the recipe at Catch My Party.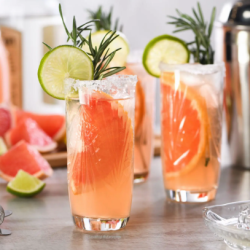 10) Skinny Paloma

Mix your tequila and grapefruit juice with a bit of zero-calorie, all-natural syrup for a bright, refreshing skinny cocktail with just 117 calories per serving. You can also garnish it with some cucumber or a sprig of rosemary to enhance its festive look!
Get the recipe at Lose Weight By Eating.
————————————————————————————
Author: Caitlin H

Diet-to-Go Community Manager
Caitlin is the Diet-to-Go community manager and an avid runner. She is passionate about engaging with others online and maintaining a healthy, active lifestyle. She believes moderation is key, and people will have the most weight loss success if they engage in common-sense healthy eating and fitness.
Recipes & Kitchen Tips